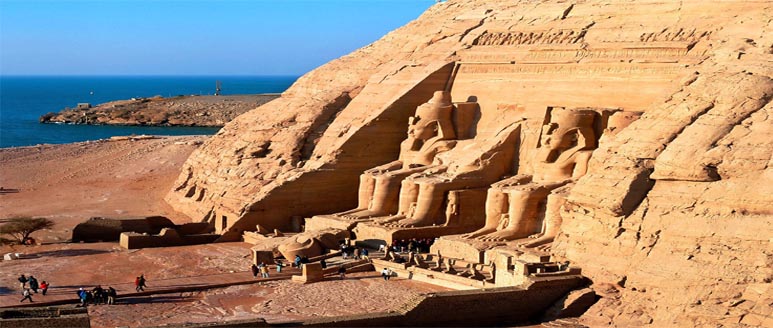 ANCIENT EGYPT WITH TANZANIAN SAFARI
A cultural tour to Egypt and a safari in Tanzania

An artistically designed holiday that covers the best of Egypt & Tanzania in one journey. We go from over 5000 years of human achievements enshrined in the Pyramids, Sphinx, and Luxor Temples. Then it is off to Islamic Cairo with its citadels, mosques, parks and exotic bazaars. We leave the hustle and bustle of Egypt to the world of the animal kingdom in its native environment – the spectacular and internationally renowned game parks of Lake Manyara, Serengeti and Ngorongoro Crater. This is certainly one of the best family vacations one can get. Our 7 days stay in Tanzania includes 6 game safaris.


Click map for

detailed route

Day 01: Arrive Cairo (EGYPT)
Ahlan wa sahlan! Welcome in Arabic. We are warmly received at Cairo Airport and transferred to our hotel.
Overnight: Safir Hotel, Cairo (2 nights)


Day 02: Cairo / Pyramids (drive)
This is a day to go back in time, starting with a visit to the most famous of the Egyptian sphinxes, the Great Sphinx of Gizah, followed by the Great Pyramid of Khufu (Cheops). Completed around 2600 BC, this pyramid was 146m (478ft) high and consisted of over 2 million limestone blocks weighing over 2 tons each. We also examine the Chephren and Mycerinus Pyramids as well as the Cheops wooden boat. At over 4500 years old, this boat is the most ancient vessel found in perfect condition anywhere in the world and is one of the most important archaeological finds in Egypt. Next we visit Memphis and the Saqqara Step Pyramid, the world's first great stone structure. Evening, an ideal opportunity to join in our optional viewing of the spectacular Sound and Light Show at the foot of the Great Pyramids. (B)


Day 03: - Cairo / Luxor (Flight)
A short flight gets us to Luxor where we are warmly received and transferred to the boat, home for the next four nights. Over the next few days we cruise the Nile and visit various offshore sites.
Overnight: M/S Sherry Boat / Presidential Nile Cruise (4 nights) (B, L, D)


Day 04: - Nile Cruise Luxor
This afternoon we visit the Karnak and Luxor Temples. The ancient Egyptians knew the Temple of Karnak as Ipet-isut. It is a city of temples built over 2000 years and dedicated to the Theben triad of Amon, Mut and Khonsu. This derelict place continues to overshadow many of the wonders of the modern world. It is the mother of all religious buildings and a place of pilgrimage for nearly 4,000 years. Luxor Temple was connected to Karnak Temple by an avenue of sphinxes in ancient times. Unlike Karnak, Luxor is mainly the work of one pharaoh - Amenhotep III and was added to by Tutankhamun, Horemheb, Ramses II and Alexander the Great. During Akhenaten's all religion, other than worship of Aten, was rejected and the development at Luxor stopped. When Akhenaten died, the old religions returned, along with the priests, so the temple began to expand again. (B, L, D)



Day 05: Nile Cruise Luxor / Esna / Edfu
We begin our day with a visit to the West Bank of Luxor to explore the Valley of the Kings, a vast City of the Dead where magnificent tombs were carved into the desert rocks, richly decorated, and filled with treasures for the afterlife by generations of pharaohs. Our visit will also includes Queen Hatshepsut Temple and the Colossi of Memnon. Sail to Esna, cross the lock then continue on to Edfu. (B, L, D)



Day 06: Nile Cruise Edfu / Kom Ombo / Aswan
Morning we will be visiting the well-preserved Greek built Temple of Horus. This temple, built during the reigns of six generations of Ptolemy's, is not only the best-preserved ancient temple in Egypt, but also the second largest after Karnak. Afternoon sail for Kom Ombo to visit the Temple of Kom Ombo, dedicated to the crocodile-god Sobek. It stands at a bend in the Nile where in ancient times sacred crocodiles basked in the sun on the riverbank. (B, L, D)



Day 07:- Aswan / Cairo (Train)
Disembark after breakfast. Visits in Aswan include the famous and monumental Aswan High Dam and the romantic and majestic Philae Temple on the Island of Agilka. This afternoon, we take a ride on a felucca, a typical Egyptian sailboat, around Elephantine Island. This is also a day for those who may want to take an optional flight excursion to Abu Simbel+ to see the temples of Ramses II and Queen Nefertari. Evening we are transferred to the railway station at Aswan for our comfortable overnight train to Cairo or take the optional flight to Cairo with overnight at the hotel (see "optionals" below)
Overnight: Sleeper Train (1 night) (B, D)



Day 08: - Arrive Cairo
We arrive in the morning and are welcomed at Cairo Railways Station. Our day starts with a fascinating tour of 7,000 years of Egyptian history with a visit to the Egyptian Museum of Antiquities. The Museum houses the world's greatest collection of Ancient Egyptian artifacts, including 12 rooms filled with golden treasures from the world-famous tomb of the boy-king Tutenkhamun. Next we are off to the fascinating part of Islamic Cairo, including the beautiful and graceful Mohamed Ali Mosque and the ancient Citadel, a spectacular medieval fortress perched on a hill above the city. Originally built by Salah El-Din in 1176 to fortify the city against the Crusaders, the Citadel was modified and enlarged over the centuries by subsequent rulers and today is a complex of three mosques and four museums. Our last stop is at the awesome Khan El-Khalili Bazaar, reputed to be the largest bazaar in the Middle East. Originally founded as a watering stop for caravanserai in the 14th century, the bazaar has now grown to vast proportions.
Overnight



Day 9: - Cairo / Arusha (by air)
Day free for optional visit to the colourful bazaars of Cairo. Check out time is 12noon. Today we bid farewell to Egypt, best described as a heritage site to the whole world, having gained an educational, historical an enlightening cultural experience never to be forgotten. Late evening we are transferred to the airport for our overnight flight to Arusha.
Overnight on board the flight. (B)



Day 10: – Arrive Arusha (Kilimanjaro)
Jambo Bwana and we are cordially welcomed as we arrive at Kilimanjaro International Airport and are transferred to our hotel in Arusha. Balance of the day is free. Arusha is the exact centre between Cairo and Cape Town and is the gateway to the safari game parks of Northern Tanzania.
Overnight Serena Mountain Village (2 nights) (B)



Day 11: Arusha
Day free in Arusha – this city is the exact centre between Cairo and Cape Town. Optional day tour to Moshi at the foot of Mountain Kilimanjaro available. (B)



Day 12: Arusha to Lake Manyara
Our Tanzanian safari starts as we drive from Arusha to Lake Manyara with a picnic lunch en route. We enter the majestic Lake Manyara Game Park and embark on the first of the six Tanzanian safaris. This small park is sandwiched between the Rift Valley escarpment and the large sodiforous Lake Manyara. It is a pretty location, with a good range of game, including giraffe, elephant, baboon and the rarely seen tree-climbing lion.
Overnight: Lake Manyara Serena Lodge or Kirurumu Tented Lodge (1 night) (B, L, D)



Day 13: Lake Manyara / Serengeti National Park
We depart for the famous Olduvai Gorge where the Africanthorpus skull was found. Olduvai Gorge is an archaeological site located in the eastern Serengeti Plains. The gorge is a very steep sided ravine roughly 30 miles long and 295 ft. deep. Exposed deposits show rich fossil fauna, many hominid remains and items belonging to the one of the oldest stone tool technologies, called Olduwan. The time span of the objects recovered date from 2,100,000 to 15,000 years ago. Optional visit to a Masai Village and then proceed to Serengeti National Park in time to be able to enjoy our 2nd game safari.
Overnight: Serengeti Serena Lodge/ Bilila Lodge Kempenski (2 nights) (B, L, D)



Day 14 : Serengeti National Park.
The Serengeti National Park is most famous for its annual migration of over one million and a half white bearded (or brindled) wildebeest and 250,000 zebra. Serengeti National Park is widely regarded as the best wildlife reserve in Africa due to its density of predators and prey. Early morning is an optional balloon safari (see +++below for details). Today is full day game drive with either a hot lunch at the lodge or picnic lunch. (B, L, D)



Day 15 :Serengeti National Park to Ngorongoro Crater
After breakfast we have yet another game drive before proceeding to the next highlight of our Tanzanian safari – the incredible Ngorongoro Crater. We will use the Malanja Depression route allowing us to see many Masia villages enroute.
Overnight: Ngorongoro Serena Lodge/Ngornongoro Farm House(1 night) (B, L, D)



Day 16:Ngorongoro Crater / Lake Manayara
After breakfast we travel to Ngorongoro Crater for a 6 hour game drive. The Ngorongoro Conservation Area (NCA) is a conservation area and a UNESCO World Heritage Site The jewel in Ngorongoro's crown is a deep, volcanic crater, the largest un flooded and unbroken caldera in the world. About 20kms across, 600 meters deep and 300 sq kms in area, the Ngorongoro Crater is a breathtaking natural wonder. The rich pasture and permanent water of the Crater floor supports a large resident population of wildlife of up to 25,000 predominantly grazing animals. These include wildebeest, zebra, gazelle, buffalo, eland, kongoni and warthogs. After the safari here it is followed by visiting Masai Villages before proceeding to Lake Manyara for our overnight stay.
Overnight: Lake Manyara Serena Lodge or Kirurumu Tented Lodge (1 night) (B, L, D)



Day 17:Ngornogoro / Arusha / home
After breakfast travel by road to Arusha via the Great Rift valley and African village of Mto wa Mbu. Arrival Arusha and you are transferred to the airport for your flight. Ideal opportunity to add a holiday to the famous spice island of Zanzibar and/or Victoria Falls. (B)



Inclusions :

PTour Price Does Not Include

International airfare. Please see note below.

Airport taxes (approx $ 400)

Accommodation and cruise as mentioned or similar

Meals as mentioned (B=Breakfast, L=Lunch,
D=Dinner)

Tips / Gratuities to local guides and drivers

All game drives and transfers by jeeps

Entrance fees to special chambers inside the Pyramids, Tout Ankh Amoun Tomb in the Valley of Kings, Mummies room at the Egyptian Museum, Solar Boat Museum. Entrance fees to outside chambers, where applicable, are included

Road taxes, parking fees, drivers overnight wages.

Services of local English speaking guides/drivers.

Entrance fees at all Museums, Parks & Sites.

Domestic air tickets: Cairo / Luxor and train tickets Aswan / Cairo.

Tour Price:

We accept payment in US $ (US Dollars), CA $ (Canadian Dollars) or equivalent EURO (for clients outside North America).
Bestway Tours & Safaris offers conversion rate protection. Once full payment has been received, and no modification has been made to the tour itinerary, we will honour that rate.

Departures

Double Occupancy

Single Room Supplement

Apr 08, 2012


Jul 29, 2012


Sep 23, 2012


Oct 28, 2012


Optional Tours :


Day 08 - Abu Simbel Excursion US $ 295 (includes airfare Aswan/Abu Simbel/Aswan)
Day 08 - If you take the flight Aswa/Cairo instead of train please add US$ 165 per person
Day 14 - Balloon Safari at Masai Mara US$ 525 per person 0

Estimated International Airfare - International airfare is included in this tour :


Canada - West Coast N/A USA - West Coast N/A
Canada - East Coast N/A USA - East Coast N/A

Participants :


This tour operates on a minimum of 02 and a maximum of 07 participants.

Notes :


Airfare ex NYC included in the tour cost is valued at US$ 1350 for all the departures and $ 1800 for the Jul 11 departure. If you decide to do your own international air you may deduct this amount from the tour cost. Airport taxes extras.

Customised Itinerary :


If you would like to have a tour on dates other than the above ones or with a customised itinerary, please contact us and we will be happy to work out an exclusive program for you.